Your certification taught you
how to coach...

are you ready to learn
how to teach?


You're a coach or business owner dedicated to serving your clients in life-changing ways.
You're short on time and you're looking for a way to maximize your impact and spread your knowledge fast.
You're curious about designing a course, group program, or curriculum… but it feels overwhelming and confusing.
You're looking for education on how actually BUILD high-quality educational products, not just how to sell them.
It's okay to be confused about a process you've never been taught. 
You're in the right place. 
let me introduce

your ticket from procrastination to profit....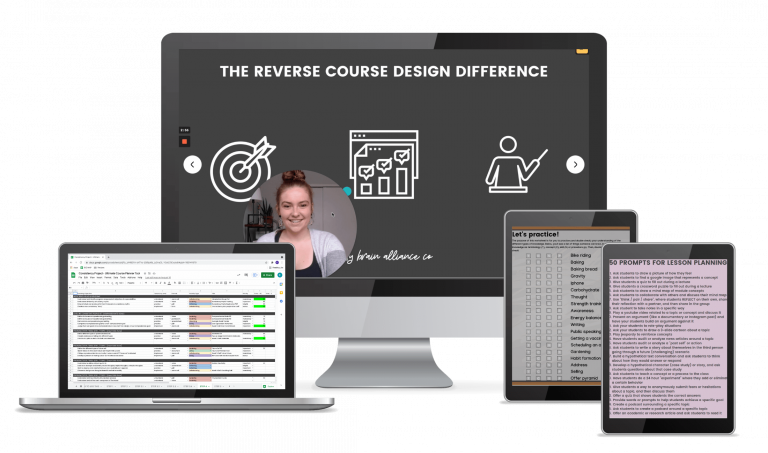 and enrollment is open now!
"BEFORE SHS, I WAS HEADING IN THE DIRECTION OF LONG VIDEO LECTURES AND BORING PDFS."
I knew I had valuable skills and information to teach, but I didn't know how to reach people in an engaging way that would help them know, understand, and do the tasks at hand.

With Karin's easy-to-follow curriculum, I was able to create learning materials that could reach and teach all of my learners, allowing them to take in information, practice what they learned, and repeat the process as many times as desired.

SHS helped me organize, plan, and simplify, all while bettering my course materials and delivery.
If you've been procrastinating that course for ages… this is exactly what you need to MAKE IT HAPPEN.
The name Six Hour Syllabus isn't just some slick alliteration… it's a guarantee that you'll be able to get through the ENTIRE course planning process in six hours or less. 
(Seriously – I even break down how long to spend on each step). 
YOU'VE GOT CONFUSION, I'VE GOT EVIDENCE.​
Maybe you've created a course or group already, maybe not. Either way, I'm guessing you are here because you're in total confusion about what makes a course great. Luckily, science is on your side. Six Hour Syllabus uses decades of research on learning, retention, and engagement – packaged in an easy-to-follow, step-by-step process you'll keep using forever.
You've got overwhelm, I've got structure.
Building a course feels like a massive undertaking. Whether you're a full-time biz owner, or still working that day job – I can almost guarantee that your procrastination is coming from not having a clear and simple plan. Six Hour Syllabus isn't just a course – it's a full workshop where you'll DO the process of course design during each module. Bye bye procrastination, hello strategic action!
You've got inspiration, I've got a way to make it happen.
I'm not going to make any decisions for you in this course. YOU are the CEO of this business, after all. It's your vision, and your instincts that matter. Six Hour Syllabus is here to provide you with rubrics, resources, and support to make those tricky course decisions – so you can feel confident and clear about what you're creating, and why you built it that way.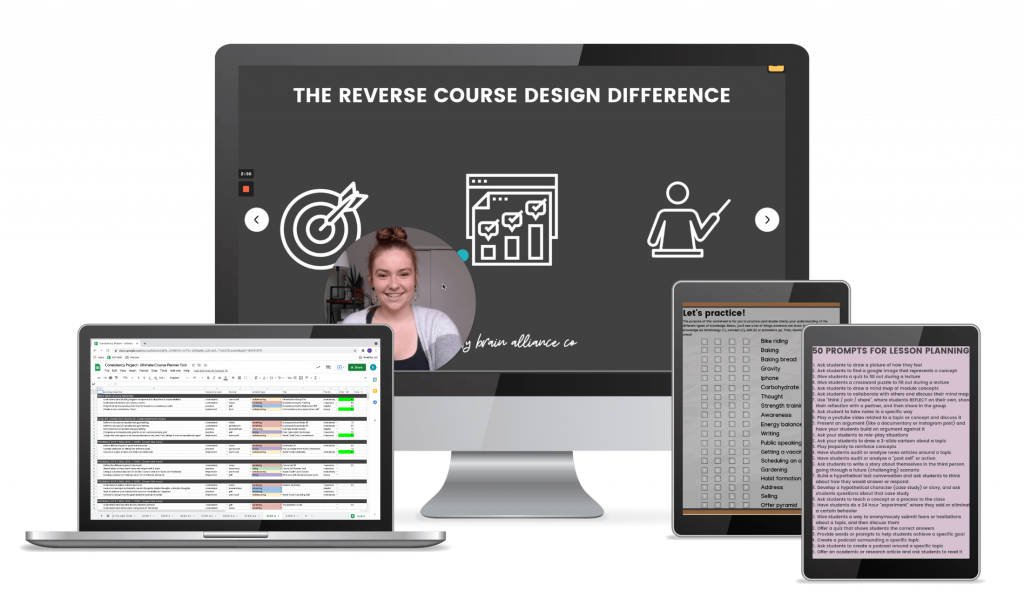 Ready to join the impact-first curriculum revolution?
six hour syllabus
Payment Options
"I knew I was sitting on a brilliant course idea but I was totally overwhelmed and stuck on where to start."
In the past, I've spent money on courses that, from a learning perspective, weren't great fits for me (ie: boring, hard to absorb, or difficult to apply)… and I rarely completed them. I wanted my course to be different – to be fun, stupid helpful, and to literally change lives. This is what Six Hour Syllabus helped me create. Karin is an expert, like a literal doctor, in curriculum design. I have the perfect foundation (that I can use repeatedly!) for my course and I know EXACTLY what to do. I also know it will get results for my clients. If you're on the fence about purchasing it, let this be the permission you need. You won't regret it, and neither will any of the people who take your future-course. Thanks, Karin!
Frequently Asked Questions
Absolutely. The Six Hour Syllabus can be used to create curriculum for ANY educational material (freebie, 1:1, group program, challenge, etc). Here's what one of our graduates had to say about that experience: "I realized that I had never really defined a clear tangible outcome (I see very different clients, with different needs). I expected my clients to understand and implement right away. And with all the resources provided, it's going to be very helpful to work on the PRACTICE portion more, and I know that's going to help my clients a lot."
No. You can attend office hours and ask questions, but I don't specifically LOOK at anyone's materials within SHS. However, graduating from Six Hour Syllabus is a prerequisite for my advanced program, Syllabus to Sold, where I do offer opportunities for 1:1 contact, auditing, feedback and mentoring from me.
Nope! Six Hour Syllabus is a completely self-led course and you have lifetime access. That means you can buy it and wait to work on it, buy it and work on it for a while and then come back, etc. I consistently have SHS graduates tell me they return to the modules and Ultimate Course Builder anytime they build curriculum!
No. I want to be very clear that this course takes you through the PLANNING process for a course. You'll have a crystal-clear roadmap for how to get to "course is done." You'll know what to put in each module, what resources need to be created to scaffold learning, and you'll even know how long those things will take YOU to complete. Then, it's up to you to follow the plan. There isn't any possible way someone can create all the materials for a good quality course in six hours.
Syllabus to Sold is an advanced 12-week group program I offer. Unlike SHS, which is self-led and focused on curriculum, Syllabus to Sold integrates my behavior change, time management, and launching experience to create a curriculum-business-mindset coaching hybrid program. It's application only, highly exclusive, and includes 1:1 contact with me and my eyeballs on your curriculum. The goal? At the 12 week mark, EVERY person in Syllabus to Sold ACTUALLY launches the course they built in SHS. There's more information available inside of SHS, but you MUST complete SHS in order to join Syllabus to Sold.
"I FIGURED THE SIX HOUR SYLLABUS COURSE WAS GOING TO BE GOOD. BUT I DIDN'T THINK IT WOULD BE THIS GOOD."
Karin's teaching style makes it SO easy to learn all of the concepts around great course design because she keeps it fun and keeps you engaged the entire time. And the way she's structured this course makes building out your own course framework effortless.
In six hours, I've gotten more clarity on what I want to teach my clients and how I want to present the information that I have in the last 3 months working on this material by myself.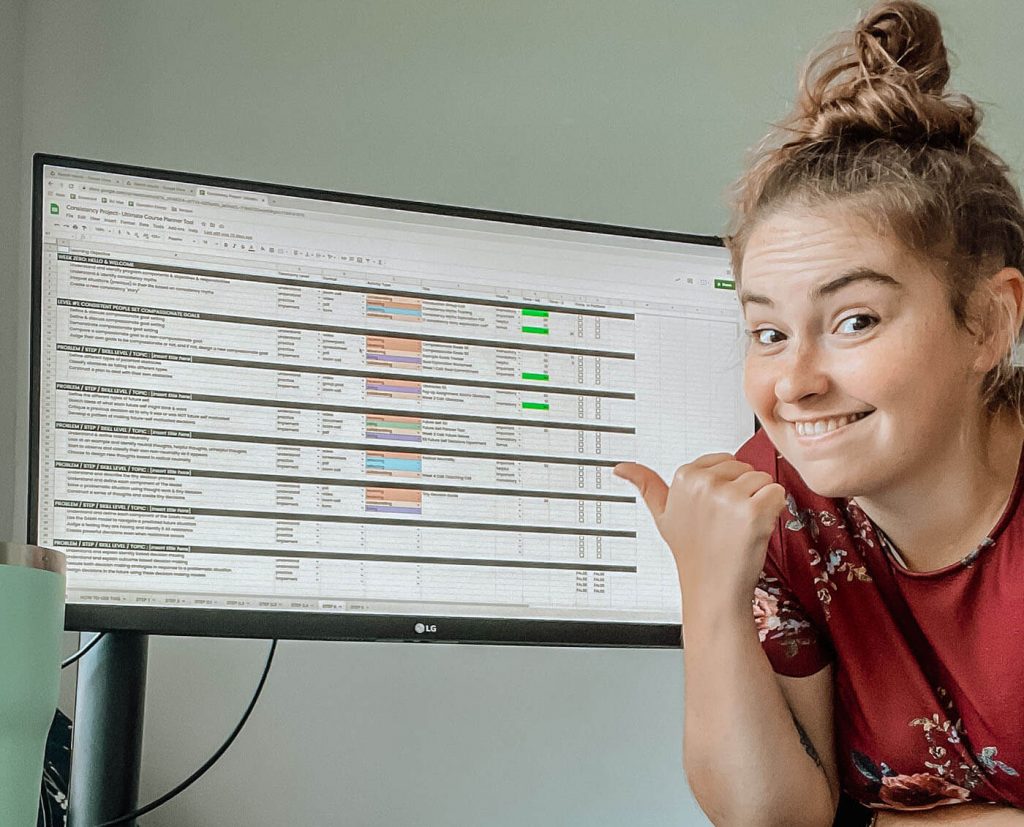 First, you join Six Hour Syllabus…
This is a SELF-led course…
That teaches you the FUNDAMENTALS of evidence-based program creation…
You DESIGN your entire curriculum in 6 hours or less, and…
You walk out with the Ultimate Course Builder, a beautiful spreadsheet map of EVERY piece of content in your course, what it does for your learners, and how long it will take you to make it.
Join anytime!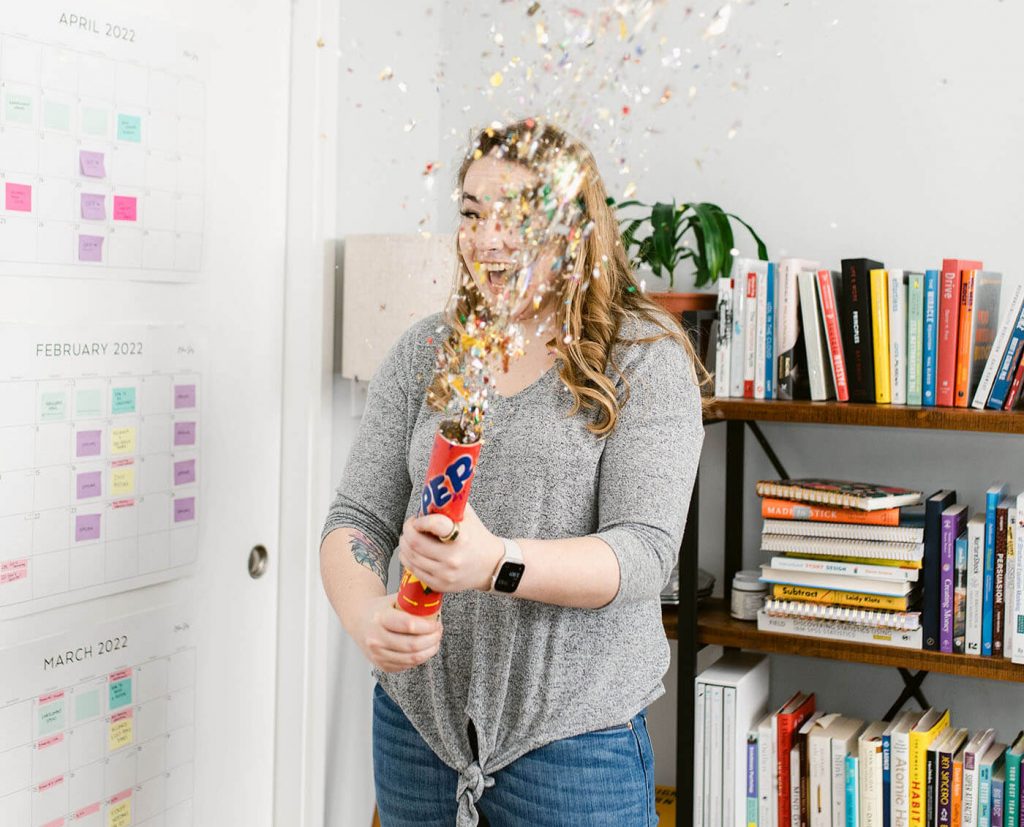 Then, you're eligible to apply for Syllabus to Sold…
12-week group program…
Which combines behavior change techniques for entrepreneurs with launch psychology and curriculum design..
While surrounding you with a community of other entrepreneurs and friends who are experiencing the EXACT same procrastination, imposter syndrome, overwhelm, and fear as you.
But don't worry – we coach on ALL that stuff, and I HOLD YOU ACCOUNTABLE to actually LAUNCHING your course during week 12 of the program.
Next enrollment period begins late 2022.