Recently, I made a big life decision that I believe will have a profound impact on my life. In this article, you'll learn why I joined my own Alliance Coaching Program. 
I'll share how it's bridging the gap from where I am to where I want to be (and how you can too).
In March of this year, I took a break from social media and focused on building empowering routines. 
I had read a lot about routine formation in preparation for our Change Academy workshop and implemented everything I had learned. By the end of the month, I felt amazing! I had never felt so productive, peaceful, and intentional in my entire life.
However, as April rolled around, life happened. 
I had to make an emergency trip to deal with some family stuff, and when I returned, I went viral on Instagram and Facebook. While gaining a ton of followers was great, it also came with a lot of negativity and hate. We also had several projects going on at Body Brain Alliance. All of this combined caused my routine to slip.
As someone who loves herself deeply, I knew I needed to hold myself to a higher standard. I wanted to be there for myself in amazing ways so I could have a greater impact on others. The version of me who was more peaceful, intentional, and boundary-conscious existed… I just didn't know how to get there. 
Despite my expertise in behavior change, I realized there's a difference between knowing something in theory and being able to apply it to your own life. No matter how much I know, how many PhDs I get, how many scientific articles I read, I will never be fully objective about my own life. 
I asked myself what I would tell someone in my situation? And the answer was clear: 
Our programs help people get unstuck and bridge the gap between who they are now and who they want to be. However, as the founder of Body Brain Alliance, I didn't think it was an option for me to enroll in the program, but then I questioned that assumption. 
We have several coaches in our program who are all experts in behavior change, and I realized there was no reason why I couldn't enroll in the program too. 
I approached my team and asked them if it would be weird if I enrolled in the program, and they were completely supportive. 
At Body Brain Alliance, we have a no-approval culture. This means my team is allowed to say no to me at any time. Instead, in this case, they all encouraged me to go for it.
I made the decision and applied for my own Alliance Coaching Program right away.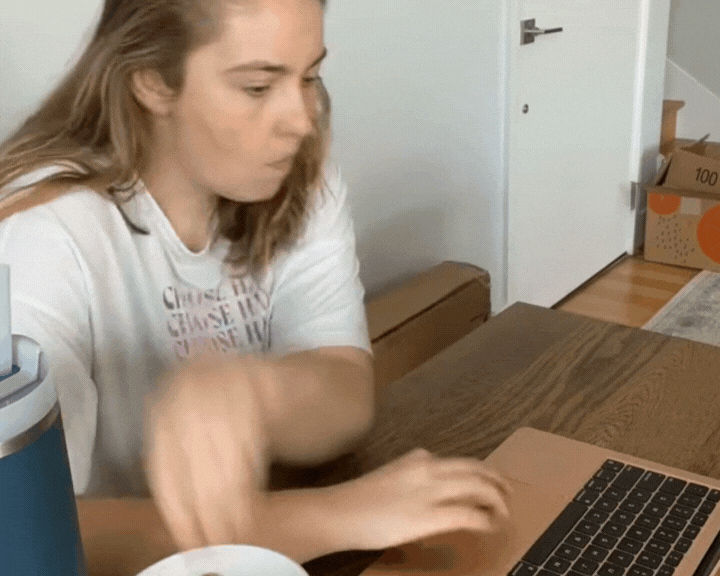 It took about 13 minutes and in the application I talked about: 
Wanting better work-life boundaries for myself
Finding an identity outside of my work
Being diligent and sticking to the behaviors and the routines that serve me
How I want to be more unshakable in varying circumstances 
How the stress in my life isn't going away
Becoming more resilient and increasing my own capacity 
So, that's the big decision I've made: 
I enrolled in our Alliance Plus Coaching program to work on becoming the best version of myself. I'm excited to see what the next 6 months will look like, and I'm committed to sharing my journey with you along the way.
Why Coaching and Not Therapy? A Personal Perspective
This is an important question to ask, and it's one I often get asked on Instagram.
First and foremost, let me say that therapy is not an option; if you're deciding between coaching and therapy, you should always choose therapy. 
If you've never been to therapy before, it's recommended that you go to therapy before engaging in coaching. 
Therapy is necessary for mental health and wellbeing, and it provides a safe space to unpack emotions and experiences with a trained professional.
However, coaching is very different from therapy. 
Coaching is future-focused and behavior-centered. While therapy is about processing emotions and experiences from the past, coaching is about looking towards the future and creating a path to reach your goals. 
It's about identifying behaviors that are working for you and those that aren't, and creating a plan to make progress towards your goals.
For me, coaching is an opportunity to have someone on my team who is looking objectively at my behavior, challenging me, and holding me accountable. 
It's about having someone to call me out on my unhelpful patterns and remind me to be kinder to myself. A coach also helps me identify my strengths, something that is often difficult for us to do on our own.
After being in therapy on and off for 10 years, I was ready to move on and explore coaching.
I had done a lot of work in therapy and felt that I had the skills to manage my emotions and understand my triggers. I knew that I wanted to work towards specific goals, and I believed that coaching could help me get there.
So that's why I decided to sign up for a six-month coaching program with Alliance Plus. 
Our Alliance Coaching programs help individuals close the gap between knowing what to do and actually doing it. It provides support and guidance to help individuals develop their own path towards their goals.
Coaching and therapy serve different purposes, and it's essential to understand the differences before choosing between them. 
If you're struggling with mental health issues, therapy should always be your first choice. 
However, if you're looking to make progress towards specific goals, coaching can be a valuable tool to help you get there.
Conclusion: 
By enrolling in our Alliance Plus program, I'm taking a step towards becoming the best version of myself. 
If you're feeling stuck or unsure of how to move forward, I encourage you to find resources and support that can help you on your journey. Remember, it's never too late to make positive changes in your life.
If you're interested in learning more about coaching, I recommend checking out the coaching programs available at bodybrainalliance.com/coaching.
And if you have any questions or requests for future articles, certainly feel free to share them in the comments below. 
Coaching can be an excellent way to work towards your goals and achieve your full potential.