If you're a frequent Body Brain Alliance blog reader, this one is going to be a little different. We are diving into the 3 stages of building an online coaching business.
Since I run a successful online coaching business myself, and normally I'm talking to our clients and audience, but this time I want to talk to my fellow coaches.
If you are hoping to start an online coaching business, or want to take your current one to the next level, this is for you. Over the past two and a half years, Body Brain Alliance has grown incredibly fast.
It started with me alone in my living room, having one to two clients. In the beginning, it was one client who was paying me $30 a month for one phone call every week, and I was doing strictly nutrition coaching.
It eventually evolved into what Body Brain Alliance is today. Which is a multiple six figure organization with a whole team of people supporting it and a much, much, much larger audience than I had originally.
Prefer to learn on video? Watch here:
Today you're going to learn about the 3 distinct stages that I went through growing my business to this point.
You're also going to learn what I wish I would have known in each of these stages… 
If you didn't know, inside of our Change Academy membership, there is a version called Change Academy Pro, and we provide low-cost mentorship for coaches who are growing an online business. So if that's something that you're looking for help with without a four or five figure price tag, I highly recommend you check out Change Academy Pro. 
Here are the 3 distinct stages I noticed when I was going through my journey building my online business:
BUILDING AN ONLINE COACHING BUSINESS:
STAGE 1: SELF – LAY THE FOUNDATION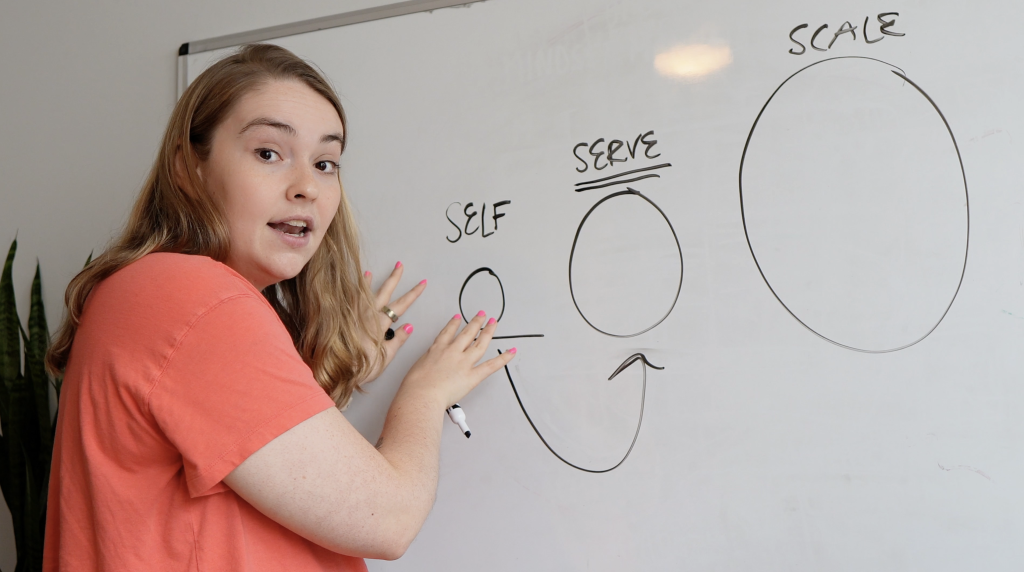 At the beginning of growing an online coaching business, you're probably going to be very overwhelmed. You're going to see businesses who are scaling, and you're going to hear words like about Marketing, Email Lists, Funnels, Conversion rates, Engagement, and think, "Wow, I do not know what I'm doing."
And that's okay! One of my favorite things to tell new business owners that I personally mentor is to be where you are.
In the beginning of growing an online coaching business, you don't need strategy. You need to focus on your individual behaviors. 
For example, the way I signed my first 10 clients was simply by creating the habit of posting on Instagram every single day and talking to ONE person that I knew every single day about the fact that I was a nutrition coach. You don't need all this big fancy stuff. What you need is basic behavior change.
You need to get yourself to a place where you're managing your time around your new business, and where you know: 
What decisions you're making.
Where you have a clear plan for every single week.
If you want more insight into these individual behavior changes: check out more resources here. 
That is what is going to get you that first client, and that is what actually starts an online business. 
You've got that first client, then you get another client. You've gotten yourself kind of in a rhythm, you're getting more comfortable posting on whatever social media you've chosen. You get two or three clients. 
What happens next? 
Usually what I see with business owners is they get maybe 1-3  clients, and then they hit a wall. This is because you've grown and you're now at Stage 2 of building an online business.
BUILDING AN ONLINE COACHING BUSINESS:
STAGE 2: SERVE – PRIORITIZE CLIENT SUCCESS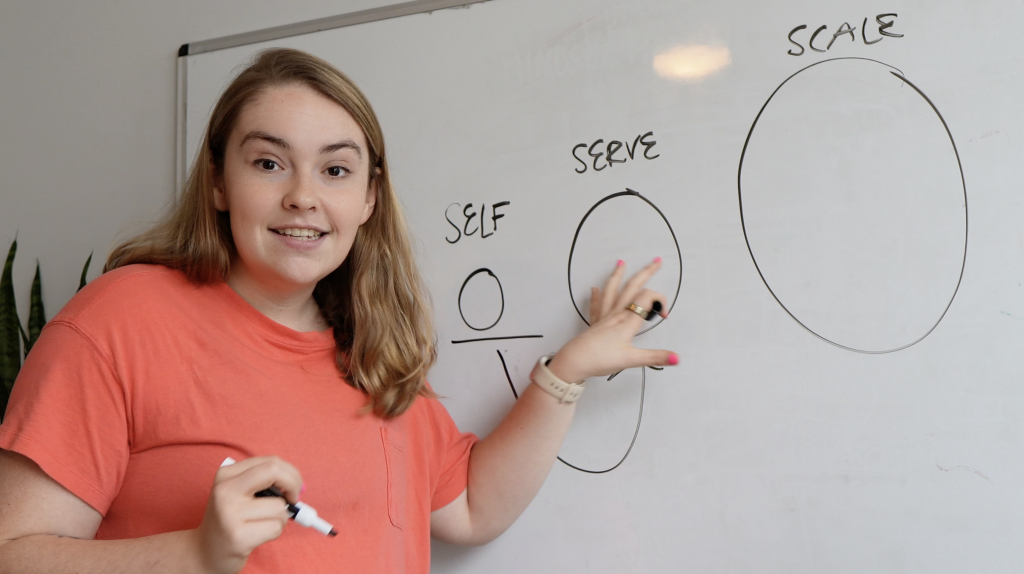 What you really need to focus on is serving the clients you have in front of you and talking about how you serve those clients to the other people that you're interacting with. 
Whether it's people on Instagram, people in your life, people in Facebook groups, whatever. This stage is really KEY because if you are creating amazing results with your first client, those clients are naturally going to tell other people about the work they're doing with you. 
Then you'll get clients with referrals much faster and much easier than you would ever get on social media. This is another place where I'm gonna highly recommend you check out Change Academy Pro because what we do is we teach you how to be an effective behavior change coach, all coaching, no matter the domain. 
Whether you're a life coach or a money coach, or a mindset coach, or a health coach, or a personal trainer, all coaching is fundamentally about changing people's behaviors.
If you can learn how to effectively help people change their behaviors, I promise you're going to serve your clients well. 
So now you've been serving your clients well, all of a sudden you get up to 6, 7, 8, 9, 10, 11, 12 clients and you start to hit a ceiling. 
You're like, "Oh my gosh, I cannot take any more clients. How is my business going to grow?" And that is when you start thinking about scaling.
BUILDING AN ONLINE COACHING BUSINESS:
STAGE 3: SCALE – Reach More People with Less Effort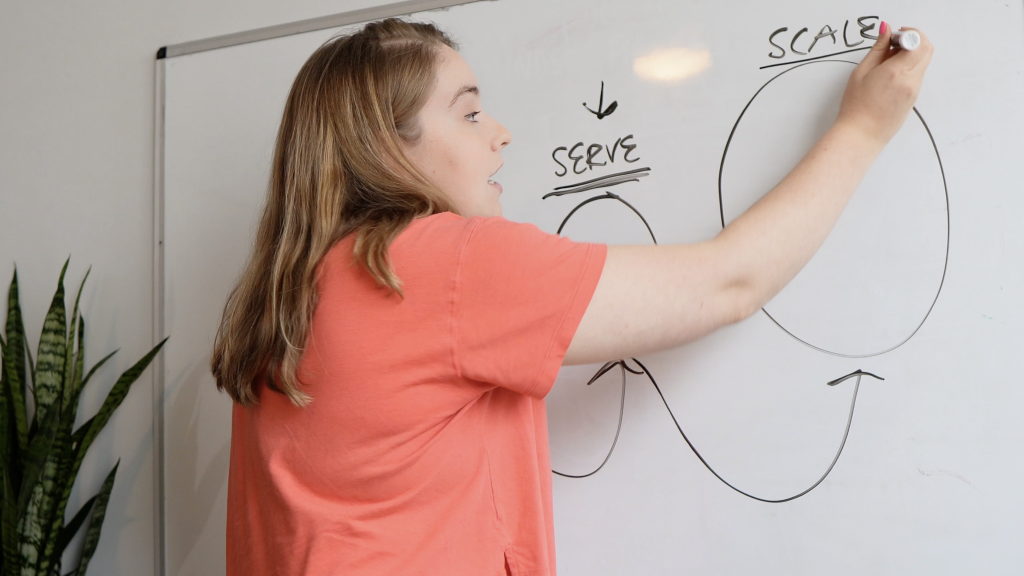 Scaling is the act of serving more people in the same way with less resources. So that means that instead of just creating transformations through one-on-one coaching, you're now creating transformations through courses or groups or memberships. 
Now, if you're in this place and you want to know how I was able to scale Body Brain Alliance so quickly, I promise you the answer is pretty simple. 
I'm a teacher at heart. I spent years studying teaching. 
Part of my PhD is focused on curriculum design, and so I know how adults learn. That is how my Instagram content goes viral. That is how our BBA YouTube channel has been growing. 
All of my success has come from my ability to teach. So if you're in the scale phase, what I want you to focus on is learning how to be a better teacher. 
If that's something you're interested in doing, you're a good coach. If you want to learn how to teach, I highly recommend you check out my Six Hour Syllabus Course. We've had almost 600 coaches go through it at this point, and it's going to give you a crash course in adult learning and curriculum design. 
Which is what you need in order to take that business to the next level. 
Make your first group or your first course in a way that ethically and sustainably creates results, even for the people who aren't working with you one-on-one.
Conclusion: 
Building a successful online coaching business involves progressing through three essential stages: Self, Serve, and Scale. Start by focusing on your individual behaviors, develop habits that align with your goals, and secure your first clients. 
As your client base grows, prioritize exceptional service and effective behavior change coaching to gain referrals. Finally, consider scaling your business through thoughtfully designed programs and courses.
Whether you're at the beginning of your journey or seeking to improve your coaching skills, resources like Change Academy Pro and our six-hour Syllabus Course can provide valuable support. 
Let's take your coaching business to new heights together. See you in the next blog!
Join The Discussion: 
We're here to help you navigate your coaching journey. If you have any questions or need advice, feel free to drop a comment below.
More specifically, I want to know:
What stage of these three are you at when it comes to growing your online coaching business? Comment below (1, 2 or 3) followed by answer questions you may have. 
1. Are you working on yourself? 
2. Are you working on serving your clients?
3. Are you working on scaling your business? 
Also, don't forget to opt in for weekly emails here for more valuable content on behavior change and empowering coaching techniques.
COACHING & MEMBERSHIPS:
⭐️ 1:1 Help + Accountability (Alliance Coaching) 
📚 Monthly Workshop + Education (Change Academy) 
FREE RESOURCES:
🗺 FREE Future Self-Mapping Mini-Course
📧 Get weekly behavior change tips, delivered to your inbox. 
BODY BRAIN ALLIANCE: Compassion-First Change Education
📲 Follow Body Brain Alliance on Instagram
🌐 Website: https://bodybrainalliance.com